The CZ 75 (The Calamity & The Calamity and Jane)
Manufacturer: Ceska zbrojovka
Country of Origin: Czechoslovakia
Installation: Czech Police, Sporting

Main Features:
Semi Automatic
Double Action
Recoil Operated
Cost:
Czechoslovakia strived primarily on the armament industry, providing various weaponry to a variety of countries. However in 1948 they were caught behind the iron curtain and exports to western Europe were ceased. But in 1969 a whole new design for a 9mm pistol was underway, finalized in 1975 and led to the production of the CZ 75 in 1976. This pistol is a recoil operated, semi automatic pistol, chambering 9mm Parabellum rounds, loaded in a box magazine. There have been many variants using different cartridges. shortened versions, some adapted for additional attachments, and even a selective fire version introduced in 1992.
Found exclusivly from the mystery box in every black ops map for 950 points. There is also the possiblity of aquiring the dual wield incarnation. Both single and double have their unique traits. For example, the reload on the single is faster, and has 15 rounds per magazine, compared to the duals which have 12. Total munition on the single is 150, whilst the dual has 252, however the inaccuracy will make that amount seem smaller. Damage is also high, rivaling the assault rifles, and maintaining use beyond round 20. As for which is better, the dual wield is more effective at higher rounds, and in closer combat comes, such as Five and Verrukt.
Recommended perks:
Edit
*Speed Cola

Pack-a-Punch:
Edit
Expending 5000 points for pack-a-punch upgrade brings with Calamity, or the Calamity and Jane for the double. Damage is doubled, and outshines the upgraded versions of LMGs, SMGs and Assault Rifles alike. adopting a common trait of those in that they become fully automatic. Magazine size increases to 20 for both iterations, and total munitions add up to 240 for the single and 320 for the double. Interestingly, the non-upgraded semi automatic versions are able to shoot faster than its fully automatic counterparts. However the ease of simply holding the trigger makes up for this short coming. It is surprisingly outstanding, and earns one of our available 10 pack-a-punch medals.
As a wise man would say, "It is easy with the CZ's".
Edit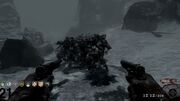 Ammunition: 9x19mm Parabellum.
Edit
The 9x19mm Parabellum cartridge was introduced in 1902 by Deautsch Waffen und Munitionfabriken for their Lugar pistol. Parabellum means "If you seek peace, prepare for war". And the bullet is also a NATO standard.